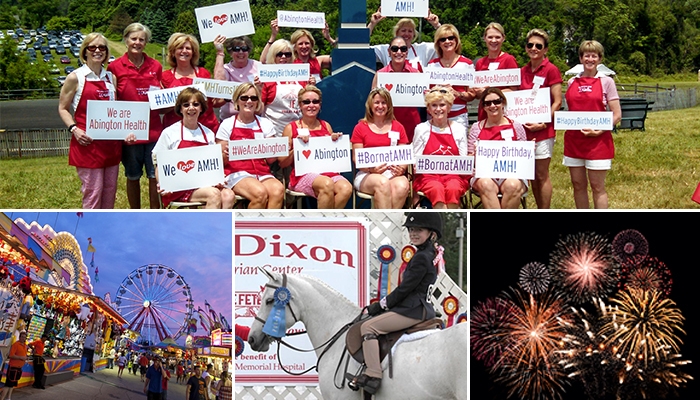 Hours
Friday, June 7 | 4 – 11 p.m.
Saturday, June 8 | 11 a.m. – 10 p.m.
Sunday, June 9 | 12 – 6 p.m.
Location
June Fete Farm
2990 Edge Hill Road
Huntingdon Valley, PA 19006
Directions »
Important notice! Due to bridge repair, Byberry Road is closed between Heaton and Reading roads. Please allow for extra travel time.
Fair Details
General admission is $5. Children 6 and under are free!
Parking is free.
ATM is available on the fairgrounds. Credit cards can be used for amuement ride ticket purchases. More info »
"Sensory Zone" is available for those needing a haven of quiet and calm. "Lactation Station" is available for nursing mothers and babies.
Security staff is posted at all times during the weekend of the fair for your safety. Please note that backpacks, coolers, and outside food and beverages are not permitted on the fairgrounds. Baby bags with essentials will be permitted. All bags are subject to search at the gates. The June Fete is a non-smoking event. No pets will be permitted on the fairgrounds.
Presented by the Abington Health Foundation Women's Board for the benefit of Abington – Jefferson Health
If you would like to participate in the fair, contact Kris Rey at 215-481-2508 or Kristin.Rey@jefferson.edu.
The June Fete is a registered trademark of the Abington Health Foundation (AHF) Women's Board and is the broad term representing all its annual fundraising to benefit Abington - Jefferson Health, an expanding regional health organization serving Bucks, Montgomery and Philadelphia counties. This umbrella of fundraising includes the Women's Board annual Special Events, Auxiliary scholarship fundraising, the Gala Program Book, vendor contracts, and concludes each year with our trademark event, The June Fete Fair. The AHF Women's Board is a non-profit organization of volunteers in support of Abington Hospital. All our proceeds benefit services and programs to meet community and patient needs at Abington and Lansdale Hospitals by supporting medical education, community programs, building expansions, equipment purchases, and assisting patients with special needs.